Snow Melting Options
If you are in the market for a snow melting system, you have come to the right place. Our goal is to provide you with as many radiant heat options as possible, then help you select the best option that will meet your needs, and fit within your budget. Depending on the dimensions of the area you wish to heat, there are three popular options we usually recommend:
Heat entire driveway area



Heat an 8 to 10 foot strip up the middle of your driveway or main traffic area



Heat a pair of tire tracks up the middle of your driveway (2-foot wide tracks recommended)


Diagrams of how the snow melting systems are laid out can be viewed in the installation section. In order for us to provide you with an accurate estimate, we will need to know the dimensions of the area you wish to heat. If you email us, fax us a plan or sketch of your driveway (801.326.5199). If you have any questions or would like more information, please call us at 888-488-(WARM) 9276. We can provide you with several custom options that are unique to your project and offer recommendations as well as provide an accurate estimate.

Heated Driveways
Snow melting systems in concrete, asphalt and under pavers used to be thought of as luxuries most people couldn't afford. But nowadays, heating driveways, walkways and even large parking areas is becoming common for residences and businesses alike. If you live in a cold region that requires snow removal, consider installing an environmentally friendly, automated snow melting system.



Installing a heated driveway to your home or business will add safety, convenience and value to your property. Browse our web site to learn more about our vast radiant snow melting options or contact one of our radiant heat specialists by phone at 888.488.WARM (9276).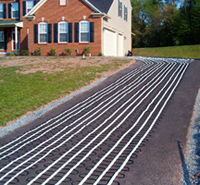 Warmzone's heated driveway and electric snow melt systems can also be customized to meet the specific snow melting needs of your property. The benefits of adding a cost-effective, automated radiant heating system to your home or business are long term and far-reaching, and will provide a lifetime of convenient, reliable performance.



The ClearZone electric radiant snow melting mat is used to melt snow and ice in the worst of conditions. These radiant heating mats are built specifically for electric heated driveway systems, sidewalks and other common areas that typically require snow and ice removal.



The ClearZone heated snow melting mat is easy to install and provides an effective, convenient and reliable solution for melting snow and ice when and where you need. ClearZone cable (off the spool) is best suited for large, custom shaped driveways.



The electric radiant heat systems are energy efficient and environmentally friendly, eliminating the need for corrosive salt and harsh snow melting chemicals that can damage nearby landscaping.

Call or email us today to learn more about the radiant heat options available to you!